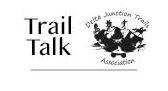 Delta Running Club was started in 2018 under the name Delta Wind Runners on Facebook. Early in 2020 Jessica Fellman and Hilary Adams, the "who" behind Delta Running Club, began planning a summer full of running and racing opportunities for the community. With the onset of Covid-19, all race plans for the summer were set aside. Once restrictions on group gatherings had eased, the club instead focused on small group trail runs every Saturday morning throughout the summer and offered a virtual summer race series allowing participants to complete the time, distance, or course independently. 
The most frequented trail over the summer was the Bluff Cabin Trail. The group appreciated this trail for the flat "warm up" section, the rolling hills, and the variety of distance options. This beautiful trail is accessible for outdoor enthusiast of all levels and many hikers and walkers joined the Saturday morning events. The Fourth of July was the most popular Saturday on Bluff Cabin Trail, with a total of 20 people hitting the trail. 
The most popular virtual race was Donnelly Dome with over 40 people entering the month-long July event. The running club led several groups up the Dome mid-week in addition to the Saturday morning group trail run times. 
For each of the summer virtual race series events one prize was awarded for the fastest finisher and all participants were entered in a drawing for a second prize. The following lists the winners of each virtual race: 
May- the Liewer Lap
Gift cards from Granite View Sports: fastest, Chad Fellman; drawing, Ellen Clark 
June- 5K 
Gift cards from Buffalo Drive In: fastest, Paul Jacques; drawing, Jennifer Brant 
July- Donnelly's Dome 
Gift cards from Smiling Moose: fastest, Jennifer Brant; drawing, Ellen Clark
August- 10K 
Gift cards from Acacia Floral: fastest, Paul Jacques; drawing, Brandy Baker 
The Delta Running Club intends to host the annual Winter Sun Fun Run on the Saturday closest to winter solstice and the Dashing though the Snow 5K, both in December. Watch the group Facebook page for more information on these upcoming events. 
The Delta Trails Association is hosting its Sixth Annual Turkey Trot on the Liewer Community Trail this Saturday, November 21. This year's event will have a COVID twist, instead of meeting all at once, the event will take place from 9 a.m. to 6 p.m. allowing participants to sign in at the kiosk and traverse the trail at any time throughout the day. All entries will be eligible for the drawing for a Thanksgiving turkey.